The Making of Panta Rhei at Quadra Island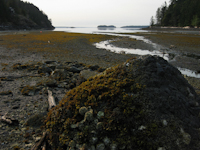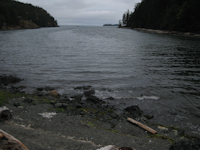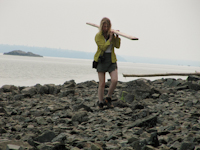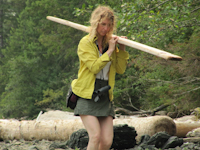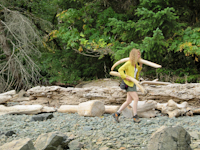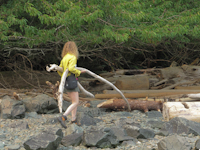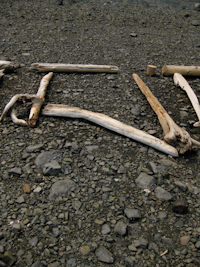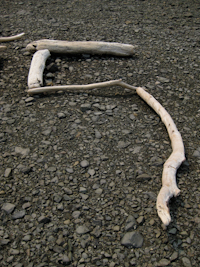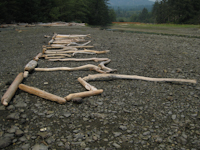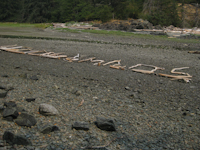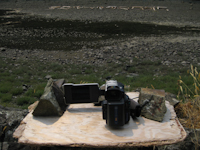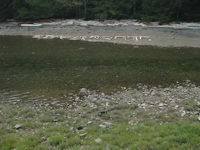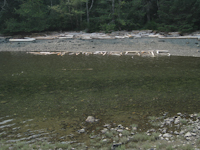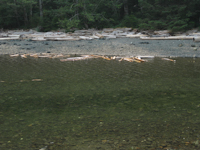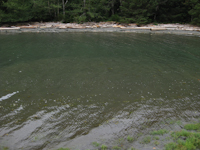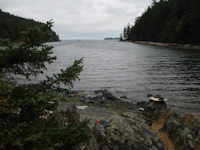 Moving Mountains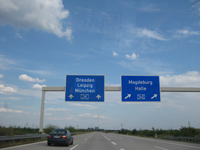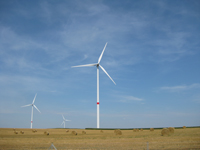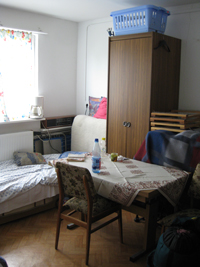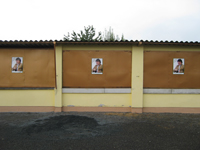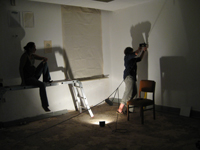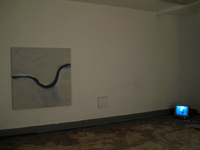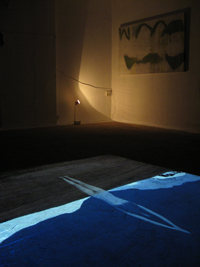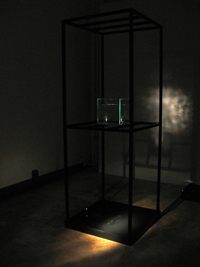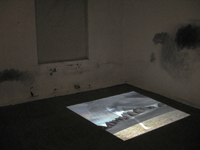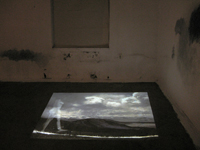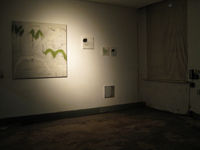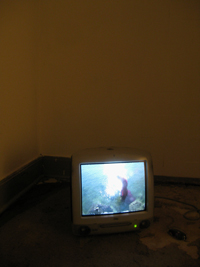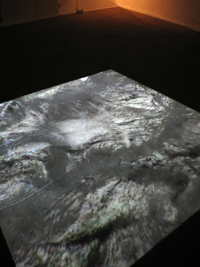 August 8, 2009
After our preview of the exhibition-site in Dresden, beginning of June, we have been working behind the scenes to realize some alternations, in order to create the necessary conditions for our project 'The verdant mountains are constantly moving on…". They have been moving on indeed: Tanja Mosblech has moved her 'mountains' to Limbourg in Belgium, and Sade Hiidenkari traveled with her 'mountains and lakes' to Japan. Ulrike Panhorst brought us together, she saw a common interest in our artistic approach, mountains and lakes aside: The perception of nature's phenomena being transformed into a delicately sensitive and encompassing artistic experience. Well, how and what that will look, feel and sound like, one can see for oneself at the Directors Villa on the Messering 5 in Dresden, in a week's time. Tomorrow we travel to Dresden, to join the Kunstlerkamp of the Ostrale 2009. The following days will be used to build-up our exhibition-site in the three rooms that have been assigned for us in the Villa where the directors of the former Slaughterhouse decided how many cows, chickens, pigs, and rabbits(!) were to be 'processed'. Our mountains and lakes shall definitely provide another kind of energy.
The facilities at the Kunstlerkamp are somewhat primitive, in line with the stereotyped beliefs that artists have to suffer in order to create (i.e. 1 communal shower for a few dozens of artists, communal means: no door, no shower-curtain, so very communal indeed), this is why I can not guarantee an actual up-date of our artistic process-progress. After my return to bourgeois civilization I surely will complete the story of the Verdant Mountains.
Preview from the Verdant Mountains in Dresden
Behind the curtain on June 8 and 9, 2009: the Ostrale in Dresden.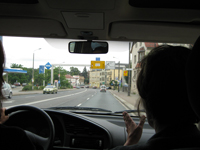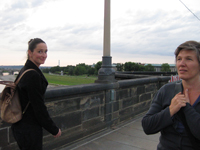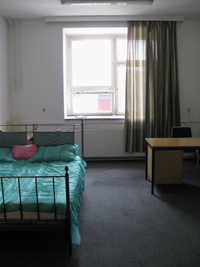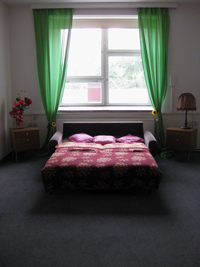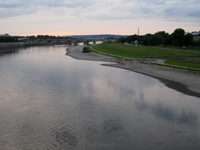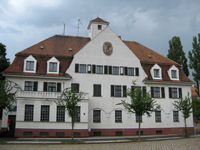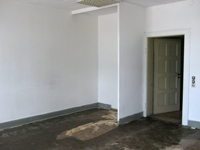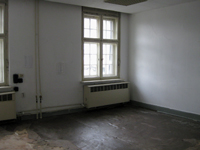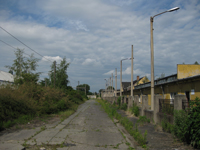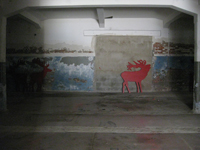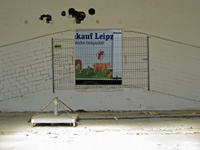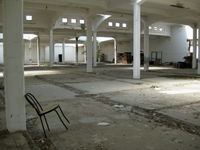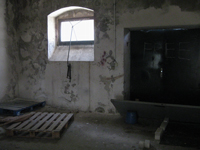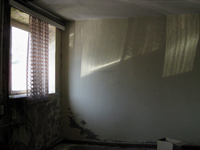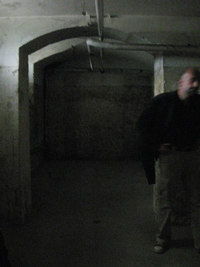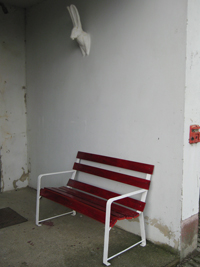 Jeanet goes to ifct in Los Angeles
It is January 26th, 2009 and I am in Los Angeles! My arrival had a familiar touch: the driver of the airport shuttle told me that he was married to a woman from Almelo.
On the way to Brentwood, where I will reside for the coming two weeks, we passed the Santa Monica Boulevard. Here nostalgia set in; Almost two decades ago I was singing in a band this following sentence: "All I wonna do is have some fun, until the sun comes up over Santa Monica Boulevard"…
The area where I am staying is close to UCLA and the Getty Research Center, henceforth quite a distance from Downtown LA. as we experienced yesterday by spending three hours on the bus.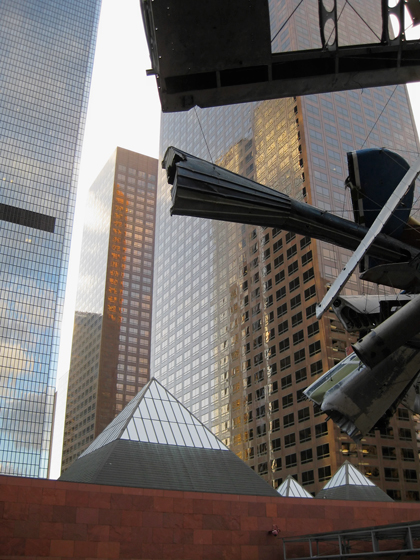 We visited the MOCA where an exhibition of Louise Bourgeois' work entered its final day. It was worth the ride. Impressive installations and tapestry-covered heads. She expresses her childhood-experiences and present anxieties with all kinds of material. Her creations appear to have a gloomy look, but the expressed energy is infinitely positive.
On the way to the MOCA we passed by the Walt Disney Concert Hall. Designed by Frank Gehry, just opened 6 years ago. It is a wonderful 'organic' creation, shimmering in the sunlight, transforming the cold steel plates into silver-golden applique.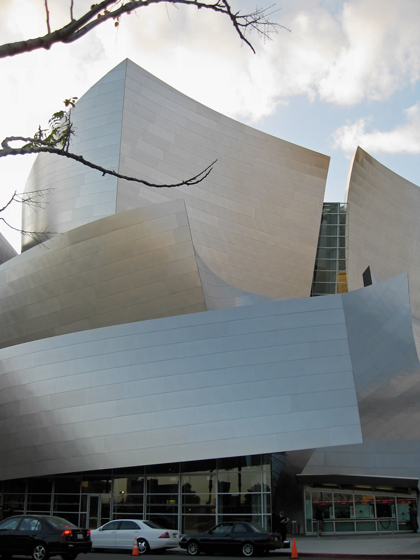 January 29th, 2009
The sun is shining again! So this morning I had a swim again in the pool, enjoying the waiving palm trees around the courtyard, buzzing hummingbirds and squabbling squirrels.
Yesterday I went to the Getty. It was amazing! The structure is situated on a hilltop, overlooking the immense city of Los Angeles and the distant shores. The sea was lit by a warm 'winter' sun.
The architecture of the Getty Museum (1997) is impressive and beautiful. Strong lines, natural materials in shades of white. No wonder that the architect-buro Richard Meier & Partners won the Pritzker Prize.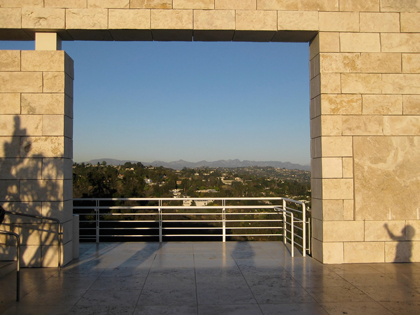 I visited two exhibitions: The Belles Heures of the Duke of Berry, and Captured Emotions. The first show displayed original pages from the illuminated manuscript of the Brothers Limbourg, commissioned by the Duke around 1403. Immensely refined miniatures, in bright colors, created with a lot of imagination. Dramatic scenes out of the life of christian saints and images from the bible are drawn in detail. Decapitations, drowning scenes, mutilations and martyrdom are dramatically expressed.
The other show was dedicated to 17th-18th Century painters from Bologna. More drama; in a romantic Italian way. Again stories from the bible, but then set in a western decor. Ah well.
This afternoon I went to Bergamot Station in Santa Monica. This former railway-station harbors momentarily around 20 galleries. There are beautiful spaces of various designation. And since temperatures were rising: 23 degrees Celsius! I enjoyed the sun at the Bergamot cafe.
January 31st, 2009
It is weekend! And I started with a lazy morning at the pool. Can't recall when I had such an easy time. Must be the Californian sun.
Yesterday I visited Culver City, south of Brentwood, and supposedly a hip place. It took me nearly 2 hours with Blue Busses to get there. But it was worth it. In an area which could be defined as industrial-residential, some 15 to 20 galleries have found their locations. And former manufacturing buildings have been transformed into cultural centers, reminiscent of the Westergasfabriek in Amsterdam Westerpark.
Since all the galleries are positioned next to each other, I had a chance to have a glance at almost all of them. I met friendly gallery-owners, and hope some of them will attend my screening coming Saturday.
A noteworthy gallery is definitely JKGallery. They had an interesting show of Jane Catlin's work.
Tonight is Bill Viola-night again. Through a wonderful site, called Netflix, one can order dvd's of all kinds by mail. And their archive is extensive.
And tomorrow it will be an all-American Sunday: the Superbowl!
February 2nd, 2009
This Monday is like any Monday in the Cultural world: gates closed.
So I spent numerous hours in the reading room of the Getty Research Institute. With the courtesy of my friend Rob who works there, I was admitted as a visitor.
The amount of art-magazines, papers and cultural journals is huge. So I really indulged in it.
By the way: the Superbowl was won by the Steelers from Pittsburgh. As I understood from the reactions of viewers and the reviews in the New York Times, it was an exciting game till the end.
And… The Boss played live on stage during the break! No Janet this time.
Californian greetings from Dutch Jeanet!
February 4th, 2009
I've been buffet-ing on culture yesterday, whole day long. And as it seems, one day was too short. I had not imagined the LACMA to be so huge! The Los Angeles County Museum of Art has an extended art-collection. There are three 4-storied buildings, housing varied collections. In the Contemporary structure they had an exhibition about German art. It showed the developments generated by the wars and the wall in the 20th Century. So I enjoyed looking at some works from a.o. Joseph Beuys, Gerhard Richter, A.R. Penck, Marianne Trockel and Anselm Kiefer. I must admit: I skipped the earlier decades of that century due to their obvious depressive nature. A lot of dark colored paintings (scenes from the battlefield or social inspired commentaries). Surely artistically of high value, but as a spectator I am maybe just like any art-viewer; according to a Baldessari quote "If you want to sell your art there are three rules. 1- Use bright colors, research has proven that brighter colors sell better than dark colors. 2- Use a simple object, flowers, a landscape or still-life (no dead animals), portraits or nudes. 3- Be subject-conscious. An artwork depicting a rooster or a bull, sells better than one showing a hen or a cow."
Well, I guess that my past art-history lessons and years-long accumulated cultural knowledge exempt me from this bias.
The LACMA houses numerous works of Koons (Michael Jackson, 3 basketballs floating, the huge balloon-puppy), Jasper Johns, Rauschenberg, Serra, and Cy Twombly. Works I only have seen in art-books. And in the other buildings several art-collections make up for a complete world-wide art-coverage. Picasso, Calder, Matisse, Brancusi, only some of the western art representatives I mention. American-Indian art is represented, Japanese Art is housed in the Pavilion. And then a big collection of Asian art: Ghandara statues from Afghanistan; Kushan, Gupta and Mathura from India; Khmer sculptures from Cambodia; Ikat and Batiks from Indonesia; and numerous Tibetan artworks, such as a big ceremonial cup of jade decorated with silver and precious stones from the Bell collection.
The ones who know me, must understand that I had a party.
Before I went to the LACMA I stopped by the Hammer. It's all on Wilshire Boulevard. But one must note that Wilshire Boulevard stretches from east to west LA… (So it takes you at least 90 minutes by bus to get from E to W). The Hammer museum is associated with the UCLA. They had a lovely show about the technique of woodcutting. It displayed classical Indian prints, and woodblock prints from Tibet, equally to Paul Gauguin and Edvard Munchs imprints, and more contemporary artists such as Anselm Kiefer (again).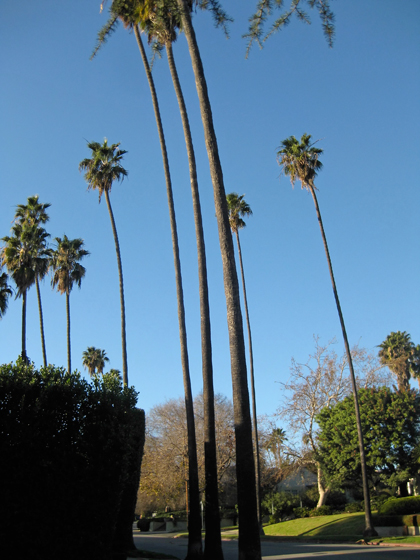 As I mentioned earlier: getting somewhere in LA is like crossing half of the Netherlands. Distances here are usually commuted on wheels. Walking in LA seems to be an activity solely attributed to the homeless and teenage moms with their buggies, at least in the suburbs. Downtown LA does show pedestrian activity, as also can be deducted from the traces left behind on the pavement: dots of chewing-gum. As soon as one walks on a sidewalk just out of Downtown, the pavement is crisp and clear. No human traces whatsoever. Except for the historical founding inscriptions in the cement: "Godfrey was here, 1978" or "Jack and Tracey" in a heart-shape. Sometimes trees take over, their roots uplifting the concrete plaques, making the walking-'expedition' even a more 'hazardous' event. Besides from these 'mountainous' obstacles, as a pedestrian, one has to endure the gaze of thousands and thousands of car-drivers, and consequently since I am blond the whistle of many. So it seems that my Himalayanwalk is resulting into an unprecedented USuburbialwalk experience. Well, I can assure you: no imagery evidence or subsequently artistically visual impression of that will ever be created.
This afternoon I will visit the Fowler Museum at the UCLA campus, and hope to give you a full report of that visit on Thursday.
Jeanet
February 8th, 2009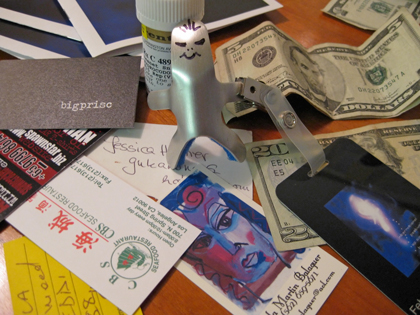 Well, the Fowler I didn't get too, and the planned visit to Chinatown in order to meet some gallerists didn't work out either. Unfortunatley I had to spend a day in the hospital because of an extensive infection on a finger. The doctors performed their artistic skills, so right now I'm decorated with the cutest little gadget: a blue foam padded 'puppet', sheeted with pliable aluminium. Its little 'arms' and 'legs' tightly wrapped around my finger.
Anyway, despite my 'hand-i-cap' I was able to attend the screening of Himalayanwalk yesterday, at the Downtown Independent Theatre. The theatre in the centre of LA is beautiful, brand new, and has more than comfortable seatings. The screening went well. Afterwards, I and 3 directors were presented to the audience for a Q&A. And everybody received an applause. Prior to the session of Visions of Movement, Art and Sound (in which Himalayanwalk was to be shown) some filmmakers gathered in a lounchbar around the corner. I met and connected immediately with two filmmakers from Germany. One of them, Jessica, has her film Yume being shown this afternoon. So I will be off soon, taking a yellow cab to town.
And then… only one and a half day of the American way.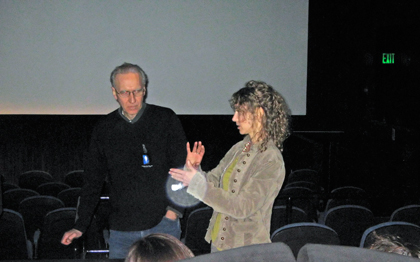 February 10th, 2009
Dearest Diary: I am sorry to say that this is my last day in LA.
Unfortunately the party is over, and I have to catch a plane soon, so I will tell you shortly what I did the last few days.
Sunday, the 8th of February I went to Downtown Independent Theatre again to see the screening of Jessica Hahner, a filmmaker from Munich. Her film Yume was good. And afterwards we banded up like real guerilla-girls: a filmmaker from Singapore, A.D. Chan and her friend Priscilla Lim joined in, as well as Lola Martin Balaquer form LA. The cheerfull gathering ended in a Chinese seafood restaurant (in China Town of course) where we dined untill the waiters started litterally dismantling the tables around us!
We exchanged cards, laughs, jokes, ideas, and the notion how wonderfull it was to have met. Thanks to the IFCT.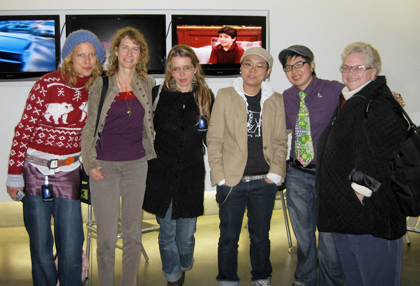 The next day, on monday, I arranged a vist to the Getty Villa (you have to reserve a free ticket in advance by phone or internet). Perched on top of a rock along the Pacific Coast Highway, the replica of a roman palazzo is overlooking the stormy waves of the Ocean.
It shelters a wonderful collection of pre-historian, Etruscan, Greek and Roman art. And the building itself is just magnificent, surrounded by gardens with medicinal plants and fruit trees; the floors covered with intricate marble mosaics; and lovely patio's with fountains and classic sculptures.
The ocean was quite wild that day, it was the coldest and windiest day I have experienced here. Well, that might prepare me for my next destination: the Lowlands…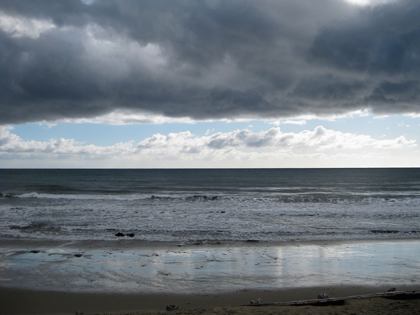 Jeanet